Bee Propolis:
Ancient Healing Power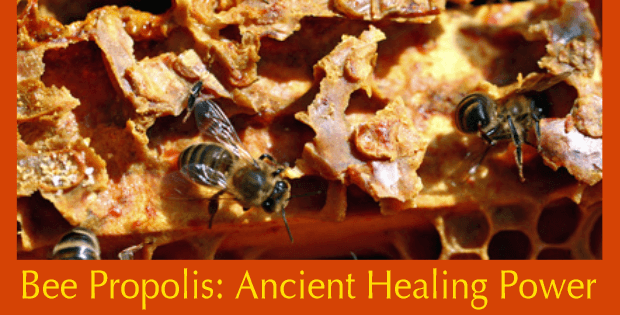 Deep Healing For Infections and Cancer
Modern antibiotic drugs are increasingly ineffective against many microbes.  The Centers for Disease Control has stated, "nearly all significant bacterial infections in the world are becoming resistant to the most commonly prescribed antibiotic treatments."  For thousands of years, folk medicine practitioners have used bee propolis to treat abscesses, heal wounds and fight infections. Propolis was an official drug in the London pharmacopoeias of the 17th century.
Bee Propolis is a resinous substance gathered from the leaf buds of pine trees,  other cone-producing evergreen trees, and certain vegetables.  Once the resin is transformed by the bees, it disinfects the beehive, seals cracks, and is used to build the hive.  It is a micro-biocidal agent that controls bacterial and viral growth.  Researchers found that bees living in hives coated with propolis have lower bacteria in their bodies and also 'quieter' immune systems.
It is a great cold and flu remedy and is especially helpful for sore throats and sneezing.  Propolis tincture taken three times per day is an effective dose.  Research in which propolis was given to rats for two weeks, found that it significantly inhibited histamine release from the rat's mast cells. Histamine release can make you sneeze, and have watery eyes and a runny nose.  The researchers noted that their results clearly demonstrated that propolis can be effective in the relief of symptoms of allergic rhinitis through the inhibition of histamine release.
Proven Effective For Many Illnesses
Propolis contains as many as 300 active ingredients and is the richest source of caffeic acid and apigenin, two very important compounds that aid in immune response and even fight cancer.  Caffeic acid phenethyl ester, another very powerful compound found in propolis, has been shown to be very effective at suppressing the inflammatory compounds that cause bone diseases and researchers even suggested propolis might be a potential treatment for bone wasting diseases like osteoporosis.  Bee propolis has been shown to reduce dental plaque by inhibiting the activity of enzymes that synthesize glucans from sucrose.
Propolis tincture has many therapeutic properties including stimulating the immune system, anti-microbial action, analgesic, anesthetic and anti-inflammatory activity, along with its very powerful antioxidant effects.  Current studies show that no other product or food analyzed has a higher antioxidant value than propolis.    Propolis is one of the most broad-spectrum antimicrobial compounds in the world.
A search of PubMed shows over 2,000 studies on bee propolis.  Dr. Seema Patel of San Diego State University, did a comprehensive review of the laboratory and animal studies regarding cancer and propolis.  The research literature currently supports the efficacy of propolis against many cancers including brain, pancreas, cancers of the head and neck, kidney and bladder, skin, prostate, breast, colon, liver, and blood cancers.
Propolis fights cancer through many different mechanisms of action including the ability to prevent the growth of new blood vessels to feed cancer cells (anti-angiogenesis), preventing the spread or metastasis of cancer throughout the body, stopping cancer cell division and inducing apoptosis (programmed cell death) in the cancer cells.  It also helps the chemotherapy side effects of conventional cancer treatments.