Naturally Anti-Viral Elderberry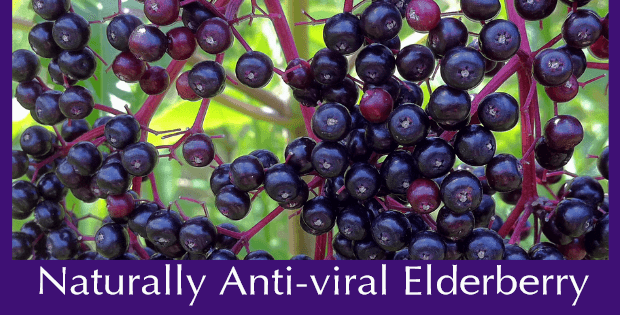 Effective Against At Least Ten
Different Strains of Influenza
Elderberry is a natural anti-viral and has been used in folk medicine for centuries to treat influenza, colds and sinusitis.   It has been shown in many studies to have antiviral activity against influenza and herpes simplex.  A 2011 study published in Bio Med Central (BMC) demonstrated that black elderberry inhibits the replication of both influenza A and B viruses, as well as three Gram-positive bacteria and one Gram-negative bacteria which cause upper respiratory infections.
The flavonoids present in elderberries are the source of their remarkable ability to control virus infections and increase immune system effectiveness. The most active ones are anthocyanins cyanidin 3-glucoside and cyanidin 3-sambubioside.   In lab studies, elderberry anthocyanins were found to bind to H1N1 swine flu virus, blocking its ability to infect host cells, exhibiting activity comparable to that of oseltamivir (Tamiflu).
Elderberry has been shown in cell culture studies to be effective against at least ten different strains of influenza.  Anthocyanins also have an anti-inflammatory effect comparable to that of aspirin, and has a pronounced effect in improving aches, pain and fever from colds and flu.
A standardized elderberry product was shown in placebo-controlled, double-blind, human studies to reduce the duration of illness from seasonal influenza to as little as 2-4 days.  The study at Hadassah University Hospital in Israel, found that elderberry anthocyanins boost the production of cytokines, which increase the body's immune function. 
Powerful Anti-Oxidant
The juice of elderberries has been shown to reduce excessive mucous secretion and some research has shown that elderberries can reduce the swelling of mucous membranes and improve sinus drainage. Elderberries are a rich source of vitamins A, B and C, potassium and antioxidants. Some research suggests they may be a more powerful anti-oxidant than blueberries.

Elderberry also protects the heart by reducing free radical damage due to lipid peroxides, neutralizing lipid peroxyl free radicals, inhibiting LDL oxidation,  and significantly protecting endothelial cells of the blood vessels. A remarkable recent study found elderberry extract reverses high cholesterol and lipid peroxidation.
European elder is a plant native to Europe, Northern Africa, and Western-and Central Asia. Its flowers and berries have a long history of use in traditional European medicine. Elder berries have also been used for making preserves, wines, winter cordials, and for adding flavor and color to other wines.  The branches and leaves are poisonous. The small stem which is sometimes left on the berry is safe.
Do not eat raw wild elderberries as they are mildly toxic unless cooked or dried and made into a tincture. The raw fruit contains a component sambungin which may cause vomiting and severe diarrhea if ingested. 
A commercially prepared form is the simplest option to be sure of the correct preparation. Nature's Way Sambucus Black Elderberry Original Syrup, 8 Ounce is an excellent elderberry syrup.  There is also one especially for children, Nature's Way Sambucus for Kids Bio-certified Elderberry, 8-Ounce.  For the convenience of chewable tablets, Sambucol Black Elderberry Immune System Support Original Formula Chewable Tablets, 30 Count is the specific elderberry extract used in some of the studies. (As an Amazon Associate I earn a small amount from qualifying purchases.)