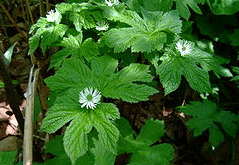 Learn more about how goldenseal and echinacea work together below!
Today, herbalists still widely recommend golden seal for many kinds of infections, inflammations and irritations of the mucous membranes. The mucous membranes are the "slime-producing" coating of our entire digestive tract, upper respiratory tract and urinary tract. They act as a protective barrier against bacteria, viruses and other kinds of mechanical irritation. When we have a urinary tract, upper respiratory tract or bowel inflammation or infection, it is mainly the mucous membranes which are first affected. Golden seal works well with these infections, bringing in more immune energy and increasing the micro-circulation to the "surface" (right beneath the membranes), which can help eliminate wastes and speed up the healing process. In Chinese medicine, golden seal is considered "cooling" because it lowers inflammation and removes heat.
Golden seal is also a good bitter tonic, and can help promote strong digestion and increase the production of enzymes and hydrochloric acid. However, it is important to note that some people can actually be harmed by golden seal, if they take it for too long a time or in too great a quantity—especially if they have weak digestion. I recommend two "00" capsules morning and evening around mealtimes for up to 10 days as a moderate dose.
So to summarize, golden seal is recommended for the following:
§  Sinus infections (sinusitis)
§  Mild bowel irritations and inflammations
§  Upper respiratory tract infections
§  Colds and flu
§  Hay fever
§  Urinary tract infections
§  Eye infections or irritations
It is best to take golden seal for limited periods (not more than 2 or 3 ten-day cycles every few months), and to add herbs such as cayenne or ginger if one's digestion is weak or cold.
How do echincea and golden seal work together as the dynamic duo? During a cold, flu or infection, especially of the mucous membranes, echinacea can go to work to activate immune fighters, such as macrophages. These important defenders work to engulf and rid the body of virus-infected cells, bacteria, toxic wastes—helping to clear the debris of an "immune battle" from the site. The purple cone-flower can also help strengthen a protective gel that surrounds many of the body's cells, thus keeping invading organisms from gaining a foothold. Golden seal, meanwhile, can help control the inflammatory process if it gets too carried away—if there is too much heat, redness, or swelling. The immune system can actually be inhibited in its protective job when this happens. It can also help bring more blood into the micro-circulation in the areas that are infected, such as the sinus cavities or urinary tract. It can help the body go through the infection much faster by bringing in more of the macrophages (that echinacea is activating) and helping to remove debris from the site.
Thanks to Christopher Hobbs, Ph.D. for this informative report…