Herbal Antibiotics Effective
Against Superbugs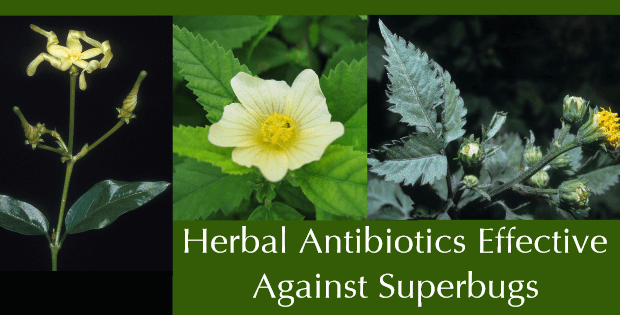 Resistance To Herbal
Antibiotics Is Impossible
In 1942, the entire supply of penicillin worldwide was only 64 pounds. By 2009, over 60 million pounds of antibiotics were being used per year in the United States alone.  Nearly 30 million pounds were used on livestock to promote growth and prevent disease on factory farms. These amounts are being used per year, every year. These millions of pounds of antibiotics never actually go away.
Antibiotics, in their pure or metabolized states, form a significant part of the waste coming from hospitals.  Millions of patients excrete millions of pounds of antibiotics into the sewage systems. They travel to sewage treatment plants and are relatively unchanged when released into our water supplies. The fairly recent discovery that all of the water supplies in industrialized countries are contaminated with minute amounts of antibiotics means that bacteria everywhere are experiencing low doses of antibiotics all the time. The more antibiotics that go into the water, the faster the bacteria learn.  The antibacterial soaps, mouthwashes and hand sanitizers that end up going into our water are also stimulating resistance among many classes of bacteria.
The commercial development of penicillin during the Second World War was a revolutionary development in modern medicine. After World War II, the use of antibiotics became more and more common.  Even in the early days of these miracle drugs, scientists and researchers expressed concern that the constant use of antibiotics would result in the development of new and resistant pathogens.  The discoverer of penicillin, Alexander Fleming, stated in an article in the British Journal of Experimental Pathology that numerous bacteria were already resistant to penicillin.  In 1945 in an interview with the New York Times, Fleming expressed his concerns that improper use of penicillin would eventually result in the development of new and resistant bacteria and pathogens.
The Future Is Here Now
The US Centers for Disease Control and Prevention (CDC) data show that two million American adults and children become infected with antibiotic-resistant bacteria each year.  At least 23,000 Americans die each year as a direct result of antibiotic-resistant infections.  Methicillin resistant Staphylococcus aureus (MRSA) kills more Americans each year than the combined total of emphysema, HIV/AIDS, Parkinson's disease, and homicide.  Hospital-acquired resistant infections are the fourth leading cause of death in the US.  Marc Lappe, the researcher, pathologist and author of When Antibiotics Fail, writes that "the period once called the Age of Miracle Drugs is now dead".

In Fleming's time, only 14% of bacteria were resistant to penicillin.  By 1953, 60-80% of bacteria had already become resistant and by 1995, almost 95% of staph bacteria were resistant to penicillin. To counter the increase in antibiotic-resistant bacteria, scientists continued to invent stronger antibiotics such as beta-lactam and methicillin that were effective against bacteria strains resistant to penicillin.
These victories were short lived and by 1999, only 54 years after commercial production of antibiotics began, the first staphylococcus bacteria resistant to all clinical antibiotics had infected its first three people. Originally limited to patients in hospitals, resistant strains, such as methicillin-resistant Staphylococcus aureus (MRSA), are now common throughout the world's population.
According to Dr. Cyril Gay, the senior national program leader at the United States Department of Agriculture's (USDA) Agricultural Research Service: "The loss of antibiotics due to antimicrobial resistance is potentially one of the most important challenges the medical and animal-health communities will face in the 21st century."  Antibiotic resistance has also been declared "an increasingly serious threat to global public health that requires action across all government sectors and society" by the World Health Organization (WHO).
Antibiotic overuse is rampant. Inappropriate use and negligent disposal of antibiotics is also a major part of the problem.  Three of the primary sources of antibiotics entering the environment, the human food chain, and the human body are:  medical use, agriculture (both livestock and produce), and pharmaceutical processing plants dumping drugs into wastewater.
What farmers are saving on the front end by using antibiotics instead of costlier alternatives, Americans pay for on the back end, via exorbitant health care costs. As noted by Scientific American, "[R]esearchers estimate that antibiotic resistance causes Americans upwards of $20 billion in additional healthcare costs every year stemming from the treatment of otherwise preventable infections."
In 2015, a report commissioned by UK Prime Minister, David Cameron, estimates that by 2050 antibiotic resistance will have killed 300 million people.  The annual global death toll could reach 10 million.  The global cost for treatment is estimated to hit $100 trillion by 2050. Health law expert Kevin Outterson told Scientific American, "You can look at antibiotic resistance as a slow moving global train wreck, which will happen over the next 35 years. If we do nothing, this report shows us the likely magnitude of the costs."