Calm Down With Valerian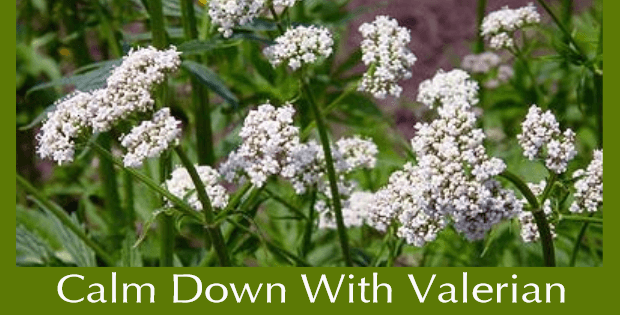 Relax The Nervous System, Improve Sleep
Difficulty sleeping affects millions of people and the pharmaceutical industry has made billions developing drugs to deal with the problem.  But in many cases, herbal sleep aids and tranquilizers can be as effective as the powerful prescription sedatives such as valium, ativan and other addictive drugs.
Valerian has long been known for its ability to relax the central nervous system and the smooth muscle groups. It has been used as a sleeping aid for hundreds of years.  Its sedative qualities are especially effective when there is excitation or difficulty in falling  asleep due to nervousness. Over 120 chemical components are found in valerian and it has no negative side effects with moderate use.  It is used to promote healthy sleep in many European Countries, North America, and many other countries.
Preparations of the fluid extract from the valerian rhizome was official in the United States Pharmacopeia from 1820-1936 and in the National Formulary from 1888-1946. It is included in the World Health Organizations monographs on herbs as well as the German Comission E Monographs.
Proven Effective For Insomnia
Valerian is calming yet not too sedative and it is not addictive.  The sedative effect is due to valepotriate and isovaleric acid.  Double-blind studies have demonstrated that valerian extract can significantly reduce the amount of time it takes people to fall asleep without changing the normal stages of sleep.  Research has shown a mild hypnotic action in both normal sleepers and insomniacs. Valerian does not impair driving ability and produces no morning hangover effect. It is a gentle relaxant and an effective sleep aid.
Studies found a beneficial effect on sleep latency, wake-time after sleep, frequency of waking, nocturnal motor activity, inner restlessness and tension, and quality of sleep. Sleepiness and dream recall the morning after were unaffected. The valepotriates have a regulatory effect on the autonomic nervous system and research suggests that they have a calming effect on agitated people, but are also a mild stimulant in cases of fatigue.
Valerian (Valeriana officialis ) is a perennial flower that is native to parts of Europe and Asia, although it has long been grown in the United States.  The plant was used as a fragrance about 500 years ago, but its medicinal benefits have also been well known for centuries.  Valerian has been considered a "heal all" and the essential oil has dozens of different applications.
The health benefits of valerian essential oil include its ability to improve sleep quality, calm gastrointestinal troubles, reduce heart palpitations, protect the skin, reduce nervous disorders, lower blood pressure, stimulate cognitive ability, eliminate anxiety, and lessen menstrual cramps, among others.
Valerian can be used as an herbal extract for its calming and sleep promoting abilities.  For a professional quality valerian extract, Gaia Herbs Valerian Root Liquid Phyto-Capsules, 60 Count is an excellent and effective choice.  Valerian essential oil has many of the same benefits along with many other applications. Valerian 100% Pure, Best Therapeutic Grade Essential Oil – 10ml is a top quality, effective essential oil.  (As an Amazon Associate I earn a small amount from qualifying purchases.)