Lavender Oil:
The Smart Choice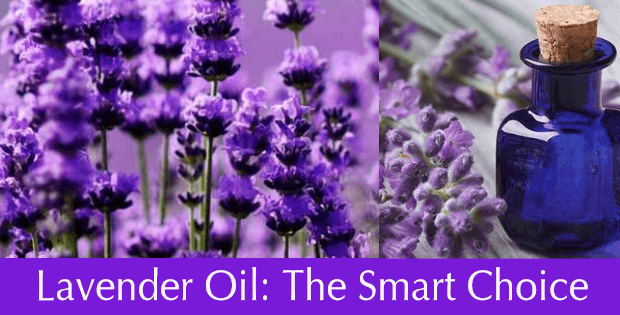 How Does Lavender Oil Outperform Ativan?
Anxiety disorders are the most common mental illness in America.  Approximately 6.8 million adults suffer from generalized anxiety disorder. Lavender oil has been proven to be equally effective for anxiety as the pharmaceutical drug lorazepam (Ativan). These results were shown in a recent study published in the journal Phytomedicine.  It has no sedative effects (a side effect of lorazepam) and it is not addictive like all other anti-anxiety medications.  Many studies have confirmed the anti-anxiety properties of lavender and that it helps with restlessness, and nervousness.
Research also confirmed its beneficial effects the on typical physical symptoms of anxiety disorders, such as disturbed sleep, somatic complaints, and decreased quality of life.  Lavender can help people who suffer from agitation related to dementia. Lavender also helps with depression symptoms and with painful and inflammatory conditions including migraines and joint pain.  Lavender oil is a more powerful anti-oxidant than Vitamin C.
Lavender Oil Heals Body and Mind
A study published in 2014 tested the effects of lavender oil on blood sugar disturbances related to diabetes.  The research showed that lavender essential oil treatment protected the body from increases in blood glucose, metabolic disorders (especially fat metabolism), weight gain, and liver and kidney antioxidant depletion and dysfunction.
Another study found that lavender oil may improve pain control after surgery. Fifty people undergoing breast biopsy surgery received either oxygen supplemented with lavender oil or oxygen alone. People in the lavender group reported better pain control than people in the control group.
A study published in the Journal of Medical Microbiology found that lavender oil is very effective in combating anti-fungal resistant infections.  "Lavandula oil shows wide-spectrum antifungal activity and is highly potent."
Research published in the journal Evidence-Based Complementary and Alternative Medicine, compared the effects of TENS (transcutaneous electrical nerve stimulation), saline solution, povidine-iodine, and lavender oil for wound healing on laboratory rats.  The authors found that "Wound closure progressed more rapidly in the TENS and lavender oil groups than in the control and other study groups."
Lavender is an herb native to northern Africa and the mountainous regions of the Mediterranean and is a member of the amazing mint family. The word lavender originally stems from from the Latin word lavare which means "to wash" and it has long been used for skin care, beauty and is commonly used in fragrances and shampoos.  One of the most versatile and popular essential oils in the world, lavender oil has been used for medicinal and religious purposes for over 2,500 years.
Lavender oil can be used externally on the skin, in baths and as aromatherapy.  Use top quality products for professional results. Lavender 100% Pure, Best Therapeutic (Kashmir) Grade Essential Oil for Aromatherapy – 10ml is an excellent, organic lavender oil.  For internal use for anxiety, insomnia, restlessness and related conditions, Integrative Therapeutics – Lavela WS 1265TM – 60 softgels (Premium Packaging) is the lavender oil used in the studies.  (As an Amazon Associate I earn a small amount from qualifying purchases.)