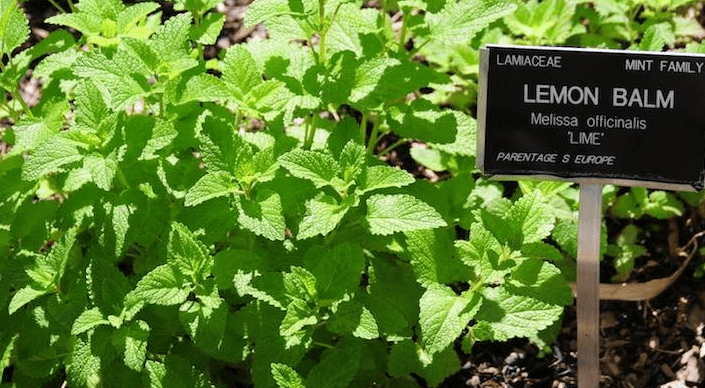 See more of lemon balm's many health benefits below!
Mental Clarity, Concentration and Relaxation
Lemon balm is widely used to treat anxiety and insomnia in Europe. It reduces anxiety and stress and eases sleep disorders. Recently it produced an unexpected result in a research study: it greatly increased the ability to concentrate and perform word and picture tasks.
Helpful for Homework?
In a study of lemon balm at Northumbria University in England students were tested for weeks while using either Lemon balm or a placebo. The students did significantly better on the tests after taking Lemon balm and continued to post improved scores for up to six hours after taking the herb. The students taking Lemon balm were noted to be calmer and less stressed during the tests. (From Prevention Magazine Sept. 2004)
Herpes and Antiviral Properties
Research has shown that the plant contains polyphenols, it can help significantly in the treatment of cold sores and combat the herpes simplex virus, shingles as well as other viral afflictions. Studies have shown a significant reduction in the duration and severity of herpes. Researchers also noted a "tremendous reduction" in the frequency of recurrence.
When applied to cold sores or genital sores caused by the herpes simplex virus, creams or ointments containing lemon balm have speeded healing. The infections did not spread as much and individuals using topical lemon balm also reported more relief from symptoms such as itching and redness. At least part of this effect is due to antiviral properties of caffeic acid and rosmarinic acid, which are contained in lemon balm.
In one study on 115 patients, a proprietary preparation of lemon balm extract in a lip balm showed efficacy in treating lip sores associated with the herpes simplex virus (Wöbling and Leonhardt, 1994).
Insomnia/Anxiety
Several studies have used Lemon balm, and Lemon balm/Valerian combinations to treat stress, anxiety and insomnia. The studies have shown improved sleep patterns and reduced stress and anxiety. In one study a Lemon balm/Valerian combination was found to be as effective as the prescription drug Halcion.
Lemon balm is approved for "nervous sleeping disorders" and "functional gastrointestinal complaints" by Commission E of the German Federal Institute for Drugs and Medical Devices. Commission E is the German governmental agency that evaluates the safety and effectiveness of herbal products. The United States does not have a comparable agency to evaluate herbal products.
Thyroid and Chronic Fatigue Syndrome
Lemon balm is used in Europe for treating thyroid problems and has shown an ability to regulate thyroid hormone production. This ability, along with the herbs anti-viral characteristics have made the herb useful in the treatment of Chronic Fatigue Syndrome.
Thanks to Herb Wisdom for this great report…