Pain Relief Without Side Effects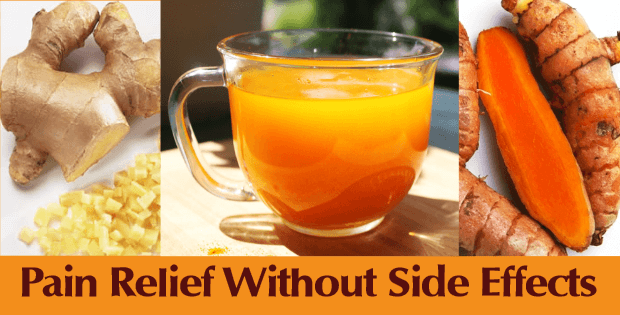 Nothing Works Like Ginger and Turmeric
Ginger and turmeric are both members of the Zingiberaceae plant family and have overlapping but complementary  actions.  Gingerols in ginger and curcumin in turmeric are powerful anti-inflammatory compounds which are COX 1 and COX 2 inhibitors.  But they also block multiple pathways of the inflammation signaling process, including the LOX enzyme and leukotrienes, which makes them more effective than common anti-inflammatory drugs.
Inflammation is a leading cause of chronic pain and almost all chronic diseases.  Every year millions of Americans seek relief with over-the-counter or prescription pain relievers, all of which have unwanted and sometimes very serious side effects.
Chronic inflammation is created by a complex "domino effect" of signaling substances called prostaglandins and leukotrienes.  Ibuprofen and other NSAIDs work by inhibiting prostaglandin promoting enzymes called Cyclooxygenase 1 and 2, also known as COX-1 and COX-2. But these drugs have little effect on leukotrienes which requires blocking the LOX enzyme.
Safe Alternative to NSAIDs
The side-effects of long term use of ibuprofen and other NSAIDs  can include hypertension (high blood pressure), erectile dysfunction, diarrhea, nausea, gastrointestinal bleeding, increased risk of heart attack, increased risk of kidney cancer and more.  There are many natural alternatives that help both the pain itself and reduce inflammation.
Gingerol and curcumin have analgesic, pain relieving effects similar to those seen with capsaicin found in cayenne pepper.  Both herbs have been used medicinally for thousands of years especially in India and China.  Ginger also contains prebiotic fiber that promotes beneficial gut flora supporting the digestion and immune system. 
They relieve pain due to rheumatoid or osteoarthritis and can decrease joint pain and increase flexibility and mobility. They are also effective for relieving the pain and inflammation of some digestive disorders like ulcerative colitis.
Research at the University of Maryland Medical Center studied 261 people with osteoarthritis of the knee.  They took a ginger extract twice daily and experienced less pain and needed fewer pain killing medications than those who received a placebo. 
A recent medical study from Denmark published in The Journal of Arthritis showed that just small amounts of ginger are more effective for pain and inflammation than commonly used pain killing drugs. 
Turmeric and ginger can be taken as a special combination designed to increase absorption and effectiveness. Advanced Bio-Curcumin with Ginger and Turmerones 30 Softgels is an advanced formula with turmeric oil and ginger.  Ginger extract is the form that relieved pain in studies and Solaray – Ginger Root Extract, 250 mg, 60 capsules is an excellent source. For a professional quality, very well absorbed turmeric, Life Extension Super Bio-curcumin, 400mg, Vegetarian Capsules, 60-Count is a powerfully effective form.  (As an Amazon Associate I earn a small amount from qualifying purchases.)
 Fresh ginger root and fresh turmeric root make an effective pain and inflammation relieving tea.  This tea reduces inflammation and pain over the entire body and helps chronic inflammatory conditions like rheumatoid or osteoarthritis, PCOS or inflammatory bowel disease.