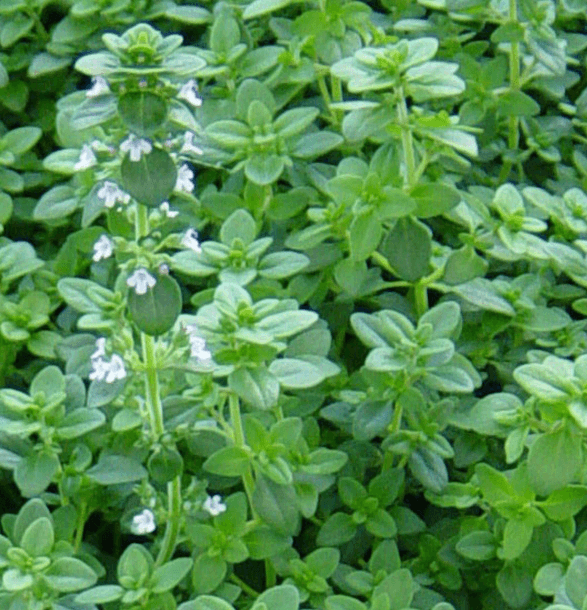 See how to use thyme oil below!
How to Use Thyme Oil 
Thyme essential oil is produced through the steam distillation of fresh leaves and flowers of the thyme plant. To make your own thyme oil, pick a handful of fresh thyme, wash the herb and pat it dry. Then crush the herb — you can do this using a mortar and pestle.
Once the leaves are crushed and the natural oils are released, add the crushed leaves and 1 cup of a carrier oil (like olive oil or coconut oil) to a saucepan over medium heat. Heat the mixture for 5 minutes, until you notice it bubbling. Once the mixture cools, it can be stored in a glass container that is kept in a cool place.
Here are some easy ways to use thyme oil in your everyday life:
§  To ease fatigue, add 2 drops of thyme oil to warm bath water.
§  To relieve menstrual cramps, rub 2 drops of thyme oil with equal parts carrier oil on your abdomen.
§  To use as a mouthwash, add 2 drops of thyme oil to water and gargle.
§  To open blocked nasal passages, inhale 2 drops of thyme oil, or add it to hot water for steam inhalation.
§  To help respiratory conditions and coughs, add 2 drops thyme oil to carrier oil and rub on chest
§  To kill toe fungus, add 5 drops of thyme oil to a warm foot bath.
§  To kill infections and rashes, rub 2 drops of thyme oil to the needed area.
§  To increase circulation, inhale or diffuse 2–3 drops of thyme oil daily.
THYME OIL RECIPES
Instead of using conventional recipes and showering your body in harmful chemicals, try adding thyme oil to this Homemade Bug Spray recipe. In addition to keeping away bugs, it also helps kill bacteria and nourish your skin! And unlike conventional brands, it smells great.
Thyme oil kills germs in the mouth and serves as a dental varnish. Try adding 10–20 drops of thyme oil to my Homemade Remineralizing Toothpaste. This recipe has all the nutrients that support building healthy teeth, from calcium to magnesium. Not only will your teeth be clean, but they'll be healthy and strong too.
Thyme oil is known to stimulate hair growth, and it washes away germs and bacteria that may build up on the scalp. Add 10 drops of thyme oil to my Homemade Rosemary Mint Shampoo. You will fall in love with the invigorating fragrance! This all-natural and chemical-free shampoo helps thicken hair and reduce dandruff.
HORMONE BALANCE SERUM
INGREDIENTS:
§  1 ounce evening primrose oil
§  30 drops clary sage oil
§  30 drops thyme oil
§  30 drops ylang ylang oil
DIRECTIONS:
1.   Mix all ingredients together in 2-ounce bottle
2.   Put into glass vial with dropper.
3.   Rub 5 drops onto neck 2 times daily.
POSSIBLE SIDE EFFECTS & INTERACTIONS OF THYME OIL
Thyme oil is safe for adults and children when consumed in normal food amounts and when taken as medication for short periods of time. A possible side effect is disrupting the digestive system; if you notice this, stop using thyme right away. If you are pregnant or breastfeeding, thyme oil is safe, but stick to food amounts because there is not a lot of research on the side effects at this time.
Thyme oil is most likely safe when applied to the skin, but there are some reports of skin irritations as a result of using thyme oil, so test the oil on a patch of skin first. People who are allergic to oregano or other Lamiaceae species might also be allergic to thyme.
Do not take thyme oil if you have a bleeding disorder; thyme might slow blood clotting, and taking thyme can increase your risk of bleeding, especially if used in large amounts. Because of this, you should also stop using thyme oil two weeks before a scheduled surgery. Thyme might also act like estrogen in the body, so if you have any condition that might be made worse by exposure to estrogen, don't use thyme.
Thanks to Dr. Axe for these great recipes!