Top 12 Natural
Antibiotic Alternatives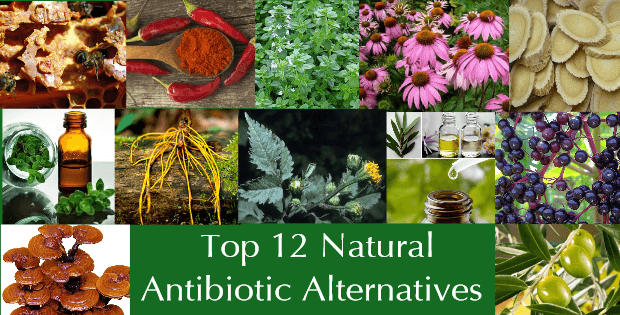 Antibiotics Could Become
Ineffective by 2050
Bacterial resistance to antibiotics is very similar to the same process as the increasing resistance of pests to pesticides and herbicides.  These 20th century technologies have only created an accelerating and unwinnable war against every living thing on earth.  Natural alternatives are becoming the only real and effective approach to controlling the over-growth of all types of organisms and to restoring the balance between us and the world we live in.
The use of antibiotics for every type of infection whether it works or not, is one of the biggest problems in medicine today.  Most respiratory infections are viral, not bacterial, and antibiotic drugs have been proven to be ineffective.  Many sinus conditions are related to candida or viruses, not bacteria.  And for many bacterial infections, antibiotics are unnecessary to effect a cure.  In fact, more and more bacterial infections are becoming unresponsive to any antibiotic drugs.
When we borrow antibiotic compounds from plants, it is essential that we borrow them all–not just the one that is deemed the active ingredient in the herb.  We lose the synergy present in herbal antibiotics when we extract single compounds and so-called active ingredients.  Multi-directional action is the great strength of all herbal medicines, preventing side effects and totally eliminating the dangers of resistance.  It is the use of single action antibiotics that, in just a little over 50 years, has given rise to such a high level of microbial resistance that antibiotics as we know them are at real risk of becoming completely ineffective in the next 35 years.
Mono-chemical medicine facilitates bacterial and other microbial resistance because bacteria are the oldest forms of life on earth.  They have been coping with millions of antibacterial substances for at least three billion years.  The world is filled with antibacterial substances produced by other bacteria, fungi and plants, and bacteria learned how to respond to them a very, very long time ago.
Antibiotic Overuse Is Becoming Dangerous
Herbal medicine is the first line of defense in controlling our common, normal infections.  It works for viral, bacterial and fungal infections.  The other important issue in the case of any infection is, why is it happening?  What has created the susceptibility in the person who is infected?  Even with severe epidemics, only a portion of any population actually contracts the infection.  A weakened immune system can be due to chronic stress, toxicity, exhaustion, allergic conditions that disturb immune function and dietary practices that feed pathogens such as a high sugar diet.
No antibiotic drug addresses any of these underlying conditions.  And antibiotic drugs greatly disturb the beneficial gut flora that are so important for a strong and effective immune system.  About 80% of our immune cells are located in the gut.  They are dependent on the good gut flora for their health and ability to function.  Chemical antibiotics are very well known for their devastating effect on these beneficial flora.  It can take many months to recover gut flora balance even when taking probiotics to replace them.
These powerful and life-saving antibiotic drugs need to be used with respect, and only for those cases where they are a life saving therapy such as for surgery.  If we lose these medicines completely through overuse and abuse of them, many modern medical procedures could become impossible to do safely.  Using them for every ear and upper respiratory infection that comes along, or to increase agribusiness profits is misuse.  If we don't recognize the benefits of effective natural alternatives and implement them world-wide, we will suffer the consequences.
All natural antibiotics have many other health benefits besides killing microbes.  They are often combined with immune boosting herbs and anti-inflammatory and pain relieving herbs.  It is the combination of restoring immune function, controlling inflammation, and the antibiotic or antiviral effects that can make natural treatment of all types of infections so effective.  Natural antibiotics are also safe enough to be used for prevention.
When dealing with more severe infections, consult with a natural health practitioner or herbalist who is experienced with the natural treatment of infections.  Chinese Herbal Therapy is a particularly powerful system for treating nearly all serious infections and health conditions.  It's proper use does require many years of study and practice so consult a professional.